85% of people believe Neeraj Chopra will be the biggest sportsperson brand in 2021
On August 7, the 23-year-old Neeraj Chopra not only won a Gold medal for launching his spear so high into the Tokyo sky, but he also put the country's century-long track and field drought to end at the Tokyo Olympics. And with that, he heralded the arrival of India's newest sporting superstar, a man of authority, charisma, and panache.
Within a day of his Olympic victory, Mahindra Group Chairman Anand Mahindra promised to gift Chopra an SUV; edtech giant Byju's announced a Rs 2 crore cash reward, and IndiGo offered him free air travel for a year.
Not just that, Chopra will get a cash reward of INR 6 crore from the Government of Haryana, INR 1 crore from BCCI, INR 1 crore from IPL Chennai Super Kings and INR 1 crore from CSK.
Neeraj Chopra is India's strongest sportsperson personal brand of 2021 because the main element of personal branding should be an individual's expertise. A javelin throw of 87.58m at the 2020 Tokyo Olympics made him the winner of a gold medal and positioned him as an authority.
Chopra has catapulted himself to a whole new level with this massive victory. He is now a member of an elite club of Indian athletes whose brand values can result in a multitude of endorsement deals. I conducted a personal brand poll to confirm the same point, and the results are not astounding; 85% of people believe Neeraj Chopra will be the biggest sportsperson brand in 2021. According to various media coverages, many experts even believe Chopra has the potential to outperform some of India's top cricketers.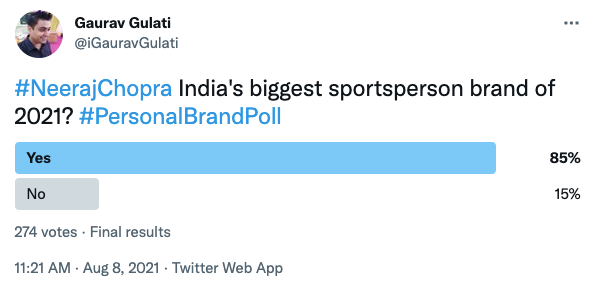 Chopra has been a brand ambassador for the British electronics company Amstrad. His brand value, however, is sure to skyrocket after winning Gold in the Tokyo Olympics. And the reason is simple: there are very few gold medalists in track and field, making Chopra the most prominent sportsperson brand today.