Losing and winning is part of the game. From the start of the Tokyo Olympics 2020, Indian teams, especially the Indian women team and sportspersons, are trending on social media for all good reasons.
Unfortunately, international media have always showcased the condition of women in India as a suffering section of the society; India is one of the most unsafe countries for women, with no equal opportunities, sexism etc. This negative image has always affected the brand India globally.
I strongly believe Indian women performed so well, and winning medals in the Olympics positively impacted brand India. We agree India has many problems, but since 2014, under the leadership of honourable Prime Minister Modi, the brand India is changing and changing for good.
And when women athletes/sportsperson performing so well, win medals and creating history shows that Indian women are no more locked under traditional guidance; they are free to do what they like and are equal to men.
Everyone is a brand, and every personal brand matters when it comes to the image of a nation. These athletes personal brands add value to the nation brand positioning.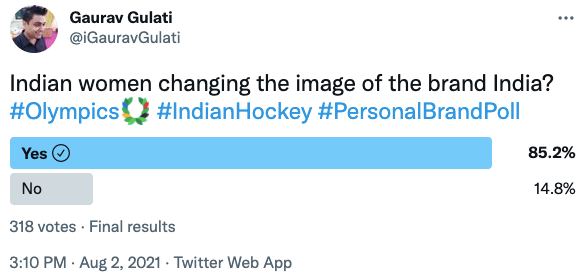 Your origin matters, and your success is also the achievement of your motherland. I conducted a Personal Brand Poll to understand if Indian women changing the image of the brand India? In this Twitter poll, 318 people participated, and 85% voted "Yes" which means they believe the same.
Indian women are changing the image of the brand India, not just in sports but in almost everything. Two more Indian women made us proud in July 2021: Sirisha Bandla became the third Indian-American woman to fly into space with British billionaire Richard Branson. Whereas Sanjal Gavande from Maharashtra's Kalyan, is among the team of engineers who built Blue Origin's suborbital space rocket New Shephard that took billionaire Jeff Bezos and three others to space.